Love to cr(eat)e?
Craving more fulfillment, fun, & delicious food in your life?
🎤 "Turns out, you're 100%" in the right place to fill your cup, expand the possibilities of what you can create, and have a good time along the way!
Your path to living a full, inspired life starts now. Ready to dig in?
Welcome to Creative Cravings Podcast
Oh, cravings... we all get them!
That delicious burrata pasta dish you ate last year in Italy... the dessert Grandma could whip up without a written recipe... the fresh squeezed juice concoction you invented that tastes like paradise... the lobster roll from that food truck you saw a well-known chef devour on Insta Stories…
On this podcast, Chicago-based twin sisters, Lauren Feingold and Sari Feingold, encourage you to follow not only your food cravings, but also your craving to create. After all, you can't spell create without e.a.t!
If you're like us, then you like to indulge your food cravings on cheat days (and many other days!), yet so many of us hold ourselves back from chasing our cravings in life as confidently as we follow those food cravings. Do you? If that's a yes, you might be ready for a change.
In our episodes, we bring you deep conversations with inspiring, food-loving, entrepreneurial guests who all share a craving to create across a variety of disciplines. Every Monday, we — and our guests — share our stories, insights, and lessons about what can happen when you do not ignore your cravings to create recipes, passion projects, businesses, or a lifestyle that aligns with who you are. Our guests also dish out their highest quality ingredients for living life to the fullest, so you can borrow those ingredients to create whatever you're craving in your own life.
There is no foolproof recipe for living life to the fullest, but we believe that sharing your creativity with others is the secret ingredient for living a full life — that, and laughing until your stomach hurts. And helping others however you can. Here, we help you, our podcast listeners, on your quest to create your own fulfilling recipe.
Podcast artwork by Raizel Maya
If you are an ambitious, food-loving, creative soul seeking transformation and in need of some direction to move forward, this is your show. If you have a craving to create, and you don't know where to begin, or you need some inspiration to keep moving forward, we are here to guide you.
Thoughts you may have right now:
"I am such a creative dabbler… so, I'm craving a like-minded community."
"I am not even sure if I'm creative… but, I'm craving a challenge."
"I enjoy creating for fun … now, I'm craving a way to profit."
"I work in a creative industry… yet, I'm craving a creative outlet."
"I am a creative entrepreneur… and I'm craving growth."
No matter where you're at on your creative journey, our episodes will leave you feeling encouraged and ready to confidently chase your creative cravings.
While working hard is a big part of life, there is so much more in life that fills you up. That is why we make sure to ask our guests about ALL of their cravings, so you have recommendations to add to and cross off of your food, travel, and creativity bucket lists! Tune in every Monday for motivation, recommendations, and more.
What are you waiting for?
Let's dig in,
Sari & Lauren
We love connecting with you and celebrating you! Here's how to make that happen:
Subscribe to the show where you listen to podcasts: Apple Podcasts, Spotify, Google Play Music, & Stitcher.

Share it with someone who keeps you going every day!

Follow us @creative.cravings on Instagram for updates on upcoming guests, behind the scenes stories, more of our own food recommendations, and shoutouts about all the cravings YOU are chasing (and special appearances from our furry

podCAsT mascot, Gracie).

Join the fun & meet other listeners on Facebook at Creative Cravings Community. See you there!
Ready to take the next step? When you support the show, we can continue to support you with new episodes (and more) every week. While our show is free for you to listen to, it's not free to create and produce! You can become a contributor to our mission right here.
Join Creative Cravings Facebook Community
Introduce yourself. Don't be shy!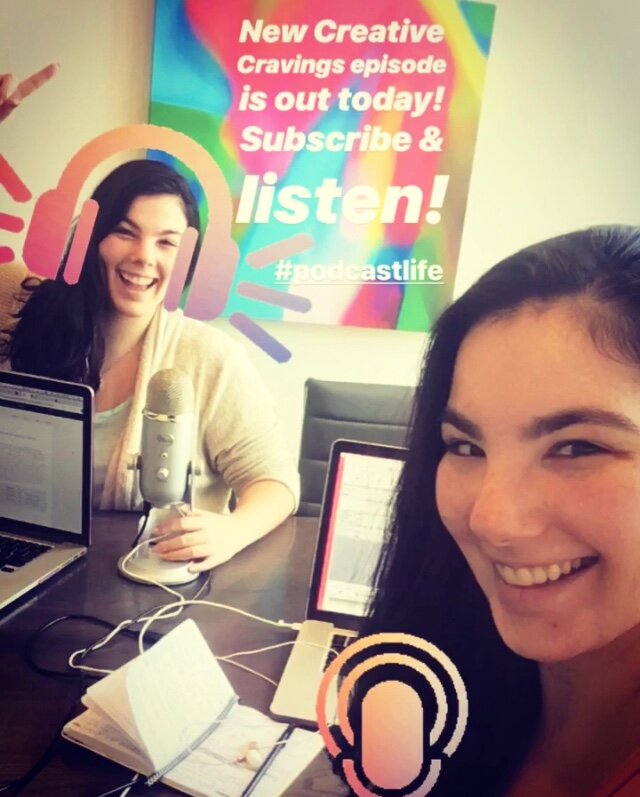 Stay up to date on what we create